Angie Stevenson

Born

Kerry Ann Stevenson


November 12, 1981
Los Angeles, California, United States
Nationality
American
Occupation
Actress
Voice Actress
Years active
2003 - present
Angie Stevenson (born November 12, 1981) is an American actress, voice actress, model, and entrepreneur. She is best known for her role as Gloria Baker in the Hasbro Cinematic Universe and as Jenna Sands on the CBS crime drama Jamaica Five-0.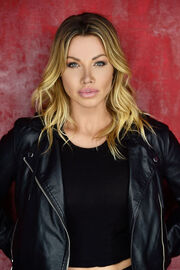 Stevenson moved from her family in Santa Cruz, California, at the age of 18, to Hollywood. She started off working many jobs--ranging from model and waitress to office manager and bartender. She was then World Recon series developers Neversoft discovered her voice. Stevenson later became the voice of Star, an intelligence officer in the Activision game, World Recon 3: Ice Cube Drinker. Stevenson stated in an interview she didn't want the role because she disliked voice acting, but later came to enjoy it.
Stevenson made her on-screen film debut in 2006 in the crime drama Alpha Dog. She was later casted as Gloria Baker in the 2008 live-action science fiction action film, M.A.S.K., which is based on the 1980s cartoon and toy line, of the same name, by Hasbro. The film grossed $359 million worldwide.
Stevenson was later casted in Badwon as Carrie Warren, and Whiteout as Denice Len, three films of which were released in 2009.
Stevenson later portrayed as Amanda Hazel in 2010 romantic comedy film Valentine's Day directed by Garry Marshall. She also appeared in six Mainstream films: Cut (2007), The Family (2011), The Locals (2012), Piranhaconda (2012), and Lizard Man (2012).
Stevenson made several appearances on television, including: CSI: Crime Scene Investigation, Criminal Minds, Without A Trace, CSI: Miami, 90210, and Sons of Anarchy. Since 2014, She has starred as Jenna Sands on the CBS crime drama Jamaica Five-0.
Personal life
Edit
Stevenson is with Bass player Matt DiRito From Pop Evil.
Filmography
Edit
Television
Edit
Title
Role
Episode(s)
Airdate(s)
CSI: Crime Scene Investigation
Diana
"Leaving Las Vegas"
January 4, 2007
Criminal Minds
Reese
2x17 "Inter-attack"
February 21, 2007
Without a Trace
Rebecca
5x17 "Paylock"
March 11, 2007
CSI: Miami
5x18 "This Ends"
March 12, 2007
90210
Rihanna
2x12 "Winter Wonderland"
December 8, 2009
Jamaica Five-0
Jenna Sands
100 episodes
September 26, 2014 - present
Sons of Anarchy
Crow Eater
6x13 "A Mother's Workplace"
7x10 "Faith and Despondency"
December 10, 2013 ("A Mother's Workplace")
November 11, 2014 ("Faith and Despondency")
Video games
Edit
| Year | Title | Role |
| --- | --- | --- |
| 2005 | World Recon 3: Ice Cube Drinker | Star |
| 2013 | The Last of Us | Sloane |
| 2015 | Battlefield Hardline | Additional voice |
| Cancelled | Medal of Honors | Lead female character |
Web series
Edit
Title
Role
Episode(s)
Learning Town
Seductive Actress
"Princess"
SIGMA
Lucy
"The Virgin Ghost"
"Too Late"
The Night Watchers
Kim Stiles
Main role
Mainstream films
Edit
| Year | Title | Role |
| --- | --- | --- |
| 2011 | The Family | Carmen |
| 2012 | The Locals | Bambi Lynn Taylor |
References
Edit
External Links
Edit